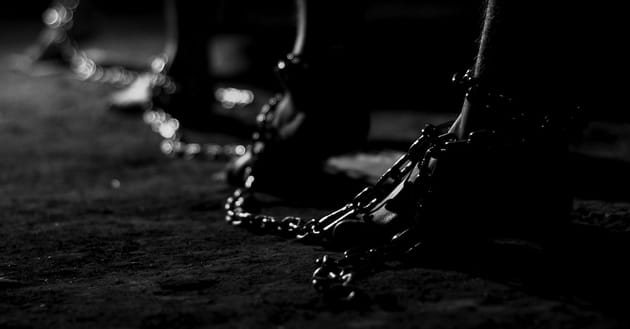 Does the Bible condone slavery?  The passage we are studying this week, in particular 1 Peter 2:18-20, seems to do just that.  As I mentioned in this week's first post, Christian slave-owners used this passage to support slavery.  Imagine being a slave hearing sermons telling you to submit to your master, even when he beats you.  Here's how authors Powery and Sadler describe it:
"The God [slaves] met in these sermons was firmly on the side of their tormentors, opposing their freedom, reifying the status quo.  The religion they were offered did not emphasize the love of Christ in response to their choice of will, but the subjugation of their wills as a divine duty to other humans who laid claim to their bodies."  – The Genesis of Liberation, page 1
It is a wonder that Christianity became and remains so prominent among African-Americans.  Is there perhaps more to the story?  Let's see what we can uncover.
What we are looking at this week is a key principle Peter taught in 1 Peter 2:13: "submit to created human authority, for the Lord's sake."  Yesterday's post examined how Peter applied the principle to government.  In the second of three illustrations, today Peter mentions something incredibly hard for us to hear.  In 1 Peter 2:18-20, he speaks to Christians who were slaves, and he says "submit to your masters, even to those who are harsh and maybe beat you."  Whew. That is a tough passage.  What was Peter thinking?
First of all, slavery in the Greco-Roman Empire had some differences from slavery in our American history.  Our slavery was racial.  In Peter's day, it was often not racial.  Slaves in the Roman Empire could earn their freedom, become citizens, purchase land, and rise in society.  Slavery was very widespread, however, and as Peter indicates, it could be brutal.
From our vantage point in 2018, given what our nation went through and still struggles with, to hear Peter say to a slave in verse 18, "submit," and in verse 19, "it is commendable if a man bears up under the pain of unjust suffering," we cringe.  We want him to say, "Slave, you throw off your chains and be free!"
But Peter doesn't say that and you can see a Southern slave owner in 1850 pulling out his Bible and proclaiming, "Look, it says right here in 1st Peter 2 that slaves should respect their masters."  And that's exactly what those slave-owners did!  Their way of interpreting the Bible, and the racism inherent in their interpretation, is a factor that led to our bloody Civil War.  Those slave-owners were wrong.  They interpreted this passage wrong.
Peter is absolutely not trying to support slavery and beatings.  Peter is talking to Christians who were currently slaves, giving them advice on how to handle the difficult situation, from a distinctly Christian perspective.
Peter says to them, "submit."  Why though?  Because when they consider the freedom they have in Christ, they will best serve the cause of Christ by being submissive and respectful to the authorities around them.  God is the focus once again, as Peter notes in verses 19 and 20.  "Be conscious of God," he says, and "This is commendable before God."  The principle has nothing to do with whether or not slavery is right or wrong.  The principle is simply, submit for God's sake.
Peter is laser-focused on the mission of God.  "Christian slaves," he is saying, "you have a grander mission, the mission of Jesus, to see people become followers of Jesus, and so therefore, you give every part of your life to that mission."
But maybe that doesn't help you understand Peter's heart.  Maybe you're still thinking, "Yeah, but Peter still could have told those slaves that the mission of God also included their freedom from slavery.  God wants slaves to be free.  And therefore, he should have told them to rise up and rebel."  If you're thinking that, you're not alone.  There is a significant portion of the my thinking that agrees with you.
But let's give Peter the benefit of the doubt, that he too likely thought through this.  He had already in verse 16 said that they were to live as free men. And yet, Peter knew what would happen if Christian slaves chose to take their freedom from their masters.  Think about the slave rebellions in our American past.  They generally didn't go well.  They almost always led to increased pain and suffering for slaves.
I suspect Peter was well aware of this and had witnessed this.  If the Christian slaves chose to embrace their freedom in Christ and not submit, they would not only face increased beatings, but they would also forfeit just about every opportunity to win their masters for Christ. Peter sees a much improved situation for slaves who are respectful, submit, and through their good lives provide a much greater chance of reaching people for Christ.
But isn't Peter, then, preserving the institution of slavery?  Shouldn't he still condemn it?
Even though Peter doesn't condemn the institution of slavery, and in fact, no biblical writer does so, they did however, lay an ingenious groundwork for slavery to be abolished.  Biblical theology absolutely supports abolition of slavery and the total equality of all humanity. That discussion goes beyond the scope of this post, but I do think it is important to mention it briefly.  The biblical writers talked about racial equality, about freedom in Christ, about how in Christ there is neither slave nor free.  But we are all one in Christ.  They made a culturally-shocking theological argument against slavery.
As Christians we should passionately pursue abolition.  Thankfully slavery is no longer a part of our American situation, but the reality is that there is more slavery, globally-speaking, now than there was during the Trans-Atlantic Slave Trade.  There is much work to be done, and we Christians should be leading the charge for abolition.
Check back in tomorrow as we look at the final illustration Peter uses for how to submit to authority for the Lord's sake.