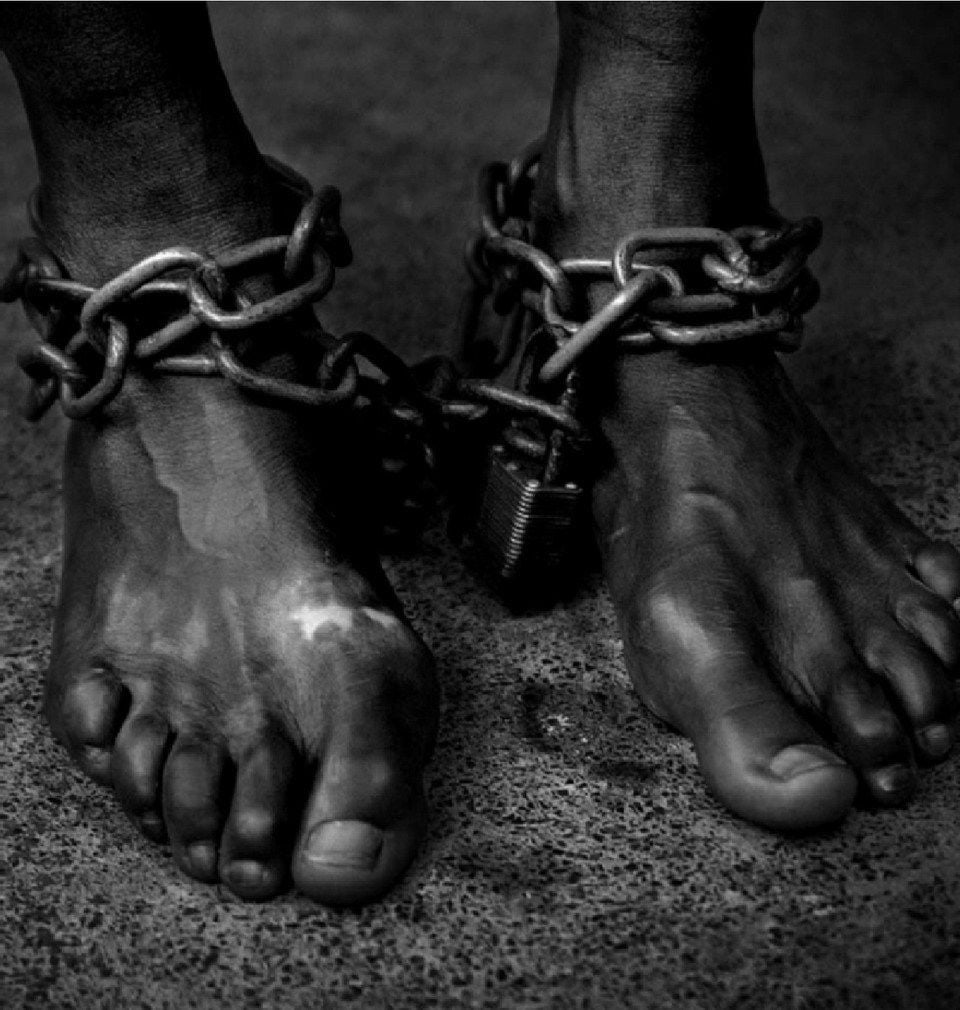 Southern Christians who were slave-owners in our American past used the Bible to justify how they could sing praises to God at church on Sunday and then beat their slaves Monday through Saturday.  Were they right?  Does God condone slavery?  As we continue our study through 1 Peter, this week we come to one of those passages that slave owners cited to support their ways.
Turn to 1st Peter 2:13-25, and what do you read?  Look at verses 18-20, and you'll find Peter says, "Slaves submit to your masters."  Then he even says that if a slave receives a beating and takes it respectfully, he is being commendable to God.  What's more is that Peter goes on to point them to Jesus as the ultimate example of one who was beaten for God's sake.  It almost sounds like Peter is saying, "Slaves, just take your beatings with a smile.  That's what Jesus did, and so you should too."  Is Peter saying that slavery is okay?
All week long we are going to try to answer these questions and look at how this difficult passage might apply to Christians in our day.
First, we need to tie in to the previous verses 11-12 where Peter tells these Christians to "live such good lives among the pagans, that though they accuse you of doing wrong, they may see your good deeds and glorify God."  That sentence is key to understanding 1 Peter 2:13-25.  Peter is writing to Christians who were a tiny minority in the vast, powerful Roman Empire.  He is thinking of the mission these Christians have.  It's not a mission Peter made up.  It was the mission Jesus had given to Peter and the other disciples.  Three decades later, Peter conveys that same mission to Christians who never knew Jesus and yet believe in him and want to follow his way.  That mission, Peter recalls, is to live such good lives that the people around them will be impacted for Christ.  Allegiance to the mission of God, therefore, is the baseline for all Christian behavior. 
With that mission in mind, Peter has a principle to share, a principle that will guide these Christians about how they should live in a culture that was toxic to them.
The principle is in verse 13: "Submit yourself for the Lord's sake to every authority instituted among men."  Before we examine how Peter illustrates this principle, including slaves' response to their masters, we need to understand this guiding principle in verse 13.  And to understand this principle, we need to do a bit of study. Let's examine each of the principle's three parts.
The first part I want us to look at is the phrase: "every authority instituted among men." How many words in that phrase?  Five.  But in the original language in which Peter wrote, he only used three words.  "Every human institution" is the simplest English way to translate the three words Peter wrote in Greek.  So why does the New International Version of the Bible add those other words?  Well, the scholars tell us that the words "every" (pas) and "men" (anthropos) are pretty much straight from the Greek.  Easy to translate with one word each.  The words "authority instituted among" are a bit more difficult to translate.  There is only one Greek word in that phrase.  I suggest that "institution" is the best English word to translate it. But it has some other elements that can help us more fully understand what Peter is referring to.
The word Peter used for "institution", ktisis, has at its root the concept of something created.  That means that these are not God's institutions.  They were created.  So Peter is not talking about the Kingdom of God.  He is talking about institutions created by humans.
Additionally, "ktisis" carries the idea that those created institutions have authority.  What are some examples of human-created institutions that have authority?  Governments.  The State.  Police forces.  School systems.  Many even use the word "authority" in their title.  The sewer authority.  The water authority.  The port authority.  There are actually a lot of them.  As we'll see tomorrow, Peter is going to mention a few human institutions that were in power in his day.
To summarize, the first phrase in verse 13 is "every human created authority."
Now we come to the second phrase, which can be a tough pill to swallow.  It is the words, "submit yourselves".  Peter says to the Christians that they should submit to these created institutions.  For a guy who just said in verses 2:4-10 that these Christians are a holy nation, a people belonging to God, it's actually kind of shocking that he says "submit to human authorities."  Imagine being in the room at the house church when someone first read this letter out loud to Christians.  They could easily have been thinking, "What?  Peter, you're confusing.  You just told us that we a holy nation belonging to God.  Why should we submit to human authorities?"
To answer that we need to first look at what he means by the word "submit"?  Submit is the concept of obedience to the orders that the authorities give.  To submit is to obey.  It's actually a pretty simple concept.  Thus far, as we have been looking at his principle in verse 13, we have put two phrases together, and they say: "obey the orders of the created human authorities".
The third and final part of the principle is the phrase "for the Lord's sake."  Peter says that they are to "obey the orders of the created human authorities, for the Lord's sake".  That last piece is crucial.  It's putting God at the priority.  The submitting to or the obeying of human authority is to be done for God.  God is the focus.  There is a godly, spiritual purpose that undergirds why we submit to human authority.  Flowing from what he said in verses 11-12, the "live good lives" phrase, you could even say that in order to promote the mission of God's Kingdom, we Christians submit to human authority. But how?
Peter is not saying that submitting to human authority is the mission of God's Kingdom.  Submitting to human authority is like a key that can help unlock a door to advance the mission of the Kingdom. Again, I ask, how?
As we seek to answer how Christian submission to human authorities could advance the Kingdom of God, I want to muddy the waters even further.  The fact that these Christians were being persecuted leaves us feeling like something is off here.  You would think that Peter would say, "That persecution is wrong, and you should not stand for that.  You need to rebel and fight back and free yourselves.  Overthrow the oppressor.  Take up arms!"  In other words, Peter says "submit" when it seems like he should be saying, "Don't submit!"  But Peter doesn't do that.  Why? Is he wrong?
No, Peter is not wrong.  He has the right focus: the Lord's sake.  Peter knows that if the Christians are submissive and obey, they will be in a far better position to advance the Kingdom of God.
But you might say to yourself, "Yeah, but Joel, where should we draw the line?  Isn't there a time and place to rise up and rebel?"  Very good question.  We're going to get to that.  But first, let's keep walking through the passage and see how Peter illustrates the principle of how submitting to human authority will actually help advance the Kingdom of God.  Tomorrow we'll look at the first of three illustrations: submitting to the State.