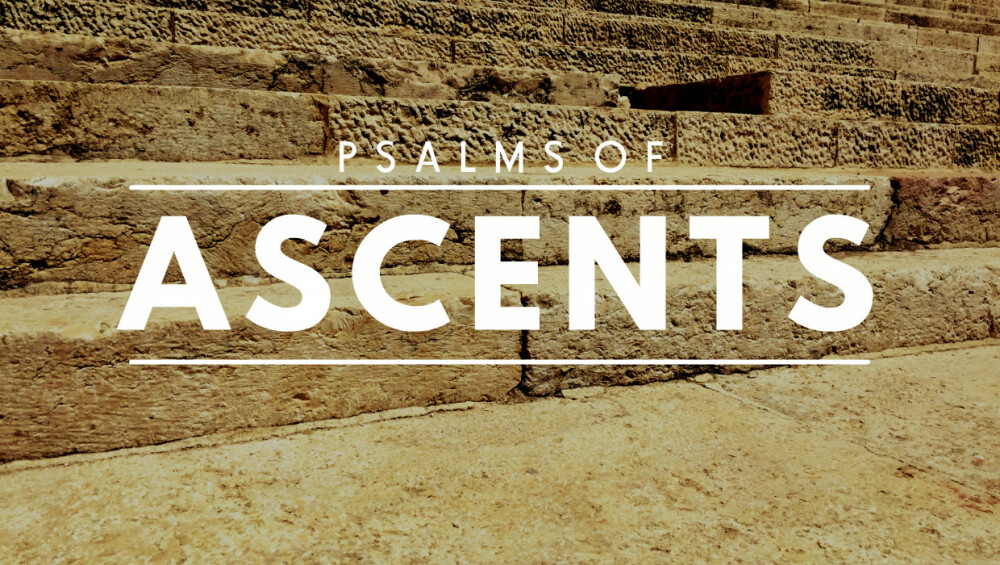 For years the rock band U2 has been hinting that they are going to release an album called Songs of Ascent. What might "Songs of Ascent" refer to?  Why would U2 think of that title?
As the years went by, U2 changed directions a bit, first releasing an album called Songs of Innocence, and just this month, a companion album titled Songs of Experience.  Might there by a trilogy in the works, and Songs of Ascent is forthcoming?  Time will tell.
While there is no U2 album called "Songs of Ascent," when I first heard they were considering that title, I took interest because there are psalms of ascent in the Book of Psalms in the Bible.  I wondered how these psalms might have sparked U2 to consider an album with that title?  So what are these songs of ascent?
During Advent 2017 at Faith Church we are learning to lament, and the psalmists are guiding us.  During this third week of Advent, we are studying Psalm 126.
Here it is.  Psalm 126
A song of ascents.

1 When the Lord restored the fortunes of Zion,
    we were like those who dreamed.
2 Our mouths were filled with laughter,
    our tongues with songs of joy.
Then it was said among the nations,
    "The Lord has done great things for them."
3 The Lord has done great things for us,
    and we are filled with joy.
4 Restore our fortunes, Lord,
    like streams in the Negev.
5 Those who sow with tears
    will reap with songs of joy.
6 Those who go out weeping,
    carrying seed to sow,
will return with songs of joy,
    carrying sheaves with them.
What do you notice first?
That it is short?  That there is no author named?  Both true.
What I want us to focus on is its subtitle: a song of ascents.  What is that?
An ascent is an upward movement.  We ascend the stairs.  I know, we don't normally talk like that.  It sounds kind of fancy to talk like that.  We tend to say simply, "go upstairs".  But that is what the word "ascent" refers to, a moving upward.  In Acts 1 we read about Jesus ascending to heaven, and thus we celebrate his Ascension Day.  On that day, Jesus, we believe, physically ascended, flew through the sky, upwards, to heaven.  His disciples, we are told, looked up and watched him fly higher and higher, apparently, until they could see him no longer.  That is an ascension, a movement upward.
So why is this called a psalm of ascents?
Actually all of Psalms 120-134 have this title, "A song of Ascents".  The Hebrew word for "ascent" could refer to stairs, and even specifically the stairs leading up to the temple.
So the title could be translated "song of the stairs."  Scholars tell us that these songs of ascent were used in worship in the temple, maybe sung by priests standing on the stairs.  Maybe even as people were ascending those stairs to enter the temple.  Scan through Psalms 120-134 and what do you notice?  They are all very short, and thus could fit well within the short amount of time it would take for people to walk up stairs.
If that is true, that the psalms of ascent were used in temple worship, then perhaps we could say that songs of ascent are a kind of preparatory songs to help people get ready to worship.  You can envision groups of priests and worshipers singing these songs together.
But scholars also tell us that these songs of ascent were used as pilgrimage songs.  There were a couple feasts each year in which Jews made a pilgrimage to Jerusalem to worship at the temple.  Scholars believe that the pilgrims would sing together as they journeyed on foot or on the backs of animals, on their way to the city.
Almost certainly, this group of songs of ascent was written after the Jews returned from the Babylonian exile.  That is the same time period as Psalm 85 last week.  In fact, psalm 85 and 126, as I think will be very obvious, are often grouped together because they are so similar.
Take a look at the text of the psalm again.  Read it through a couple times.  What do you notice?
My first thought when reading Psalm 126 was, "Wait…Is this a lament?  The word 'joy' is repeated four times.  Laughter is mentioned.  The people proclaim, 'The Lord has done great things for us.' How is this lament?"
Just like last week in Psalm 85, what we see in Psalm 126 is an eruption of joy because the Lord has restored their fortunes in returning some of the people of Israel from exile in Babylon back to Palestine.  But right there in the midst of joy is also lament as they realize how far they as a nation have to go in order to keep the restoration going.
So this is a lament.  Starting with our next post, we'll take a closer look at how this song of ascent is crafted and how we can learn more about lament from this psalmist.