Our study through Acts 16 has been filled with drama, and in the final verses, 35-40, there's one more dramatic loose end to tie up. Though the local magistrates give Paul and Silas their freedom, Paul says, "No. We're staying." What? He voluntarily stays in prison? Why? Paul is making a point, letting the magistrates know that this whole process was not handled properly.  Paul is advocating for justice.  As Roman Citizens, they should not have been beaten and thrown in prison without a trial.  And yet that's what happened.  The magistrates had treated them very unjustly.  Paul suspects the magistrates know this, and want to sweep the injustice under the rug and just have Paul and Silas leave. 
Paul says, "No way."  Paul knows that it isn't right, and justice must be given.  Additionally, think about the ramifications of this situation to the new group of Christians there in Philippi.  If their church was started by a guy who was punished as a criminal, imagine what that could do to the church?  It could delegitimize them.  Paul doesn't just want to be free, he wants the whole city to know that he and Silas should never have been in prison, which will give the fledgling church a clean record.  So he says, "No way, we're staying here until the magistrates themselves come in person and escort us out."  It seems that Paul is going for a solution that would atone for the injustice.  In other words, by coming in person and escorting them out, the magistrates would be forced to admit their fault for all to see, thus exonerating Paul and Silas.  And that is exactly what happened. 
The magistrates do ask Paul and Silas to leave the city, however, which I find a bit humorous.  The magistrates want peace, and upheaval seems to follow Paul wherever he goes.  It is the righteous upheaval of the Kingdom of Jesus bring truth and justice to the brokenness of society.  People can become so accustomed to injustice, thinking it is normal, that when Jesus breaks in, it can feel like he is messing things up, when actually he is making things right.  So after meeting with the new Christians at Lydia's house, Paul and Silas leave.
As we have seen through Acts 16, Paul and Silas' visit to Philippi shows us a stark example of the difference that Jesus makes, particularly when we go through difficult times.   Can we rejoice during the upheaval of 2020?  How are supposed to rejoice in the midst of difficulty? 
"Rejoice in the Lord, always, and again I say, rejoice!" (Philippian 4:4)  Paul wrote that while in chains on house arrest!  Just as he and Silas prayed and sang to God after being beaten and thrown in prison. 
We can learn to rejoice in all circumstances. It is a choice we must make, to rejoice even when we don't feel like it. I get how hard this can be. And yet we can practice it. Our circumstances do not need to rule us.
And here is the beautiful thing, people are hungry for joy. We crave it. Let us be known as the ones who choose joy. Let us be so filled with the joy of the Lord, that it can't help but flow out.
What will I tell my grandkids in the coming years when they study 2020 in their history classes? Will I tell them that it was horrible and awful and terrible? I hope I tell them the truth about the difficulties, but I also will remember the campfires with friends and the laughter. I will remember the Zoom sessions with my classmates in my doctoral program, just laughing. I will think with joy about the additional family time.
I will share with my grandkids about the hardships that we faced and yet brought to light in our world.  I look forward to the resolutions for racial justice I can share with them that by that time have come to pass.  I am expectant of good things coming to light in the midst of such pain for so many.  I am expectant of redemption, and that brings joy and praise in the midst of pain and sorrow. Remember joy is not the same as happiness.  Joy can be felt and experienced in the midst of deep pain and difficulty.
We see in this passage the transformative ability of joy.  We read that joy is one of the fruits of the Spirit, as Paul taught in Galatians 5.  When we are so filled with the joy of the Lord, it flows naturally out of our lives, even in times of difficulty.  And that joy has power to transform the darkness, just as we saw in Philippi.
When you and I are joyful in the midst of pain and hardship, God is not only at work in us, but also through us. I recently saw photos of a baptismal set up at the sight of George Floyd's death; there was singing, there was rejoicing, and there were people seeking Jesus and coming to know him.  They were being baptized.  That is deep joy in the midst of deep pain.  It does not mean that the struggles are over.  But joy was found in the midst of it.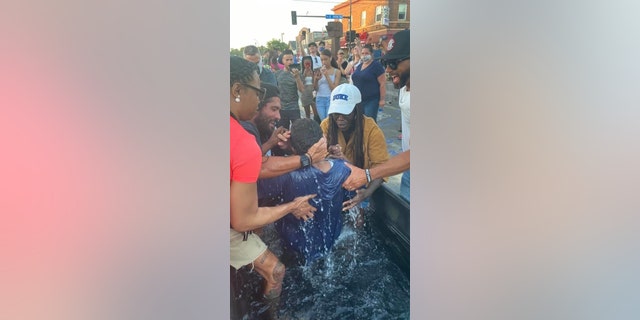 How can you bring the transformative joy of the Lord into the darkness?  I know that there is a time to weep, to cry, to lament.  Those are needed and good.  But we also need to see there is a time for joy! And joy can be found in the midst of difficult times. Joy does not mean all is well.  Joy does not mean conflict is done.  Joy is from the Lord.  It is deep, it is strength.  "The Joy of the Lord is my Strength."  No matter what is coming next in our world, in our homes, let's remember to rejoice in the Lord.