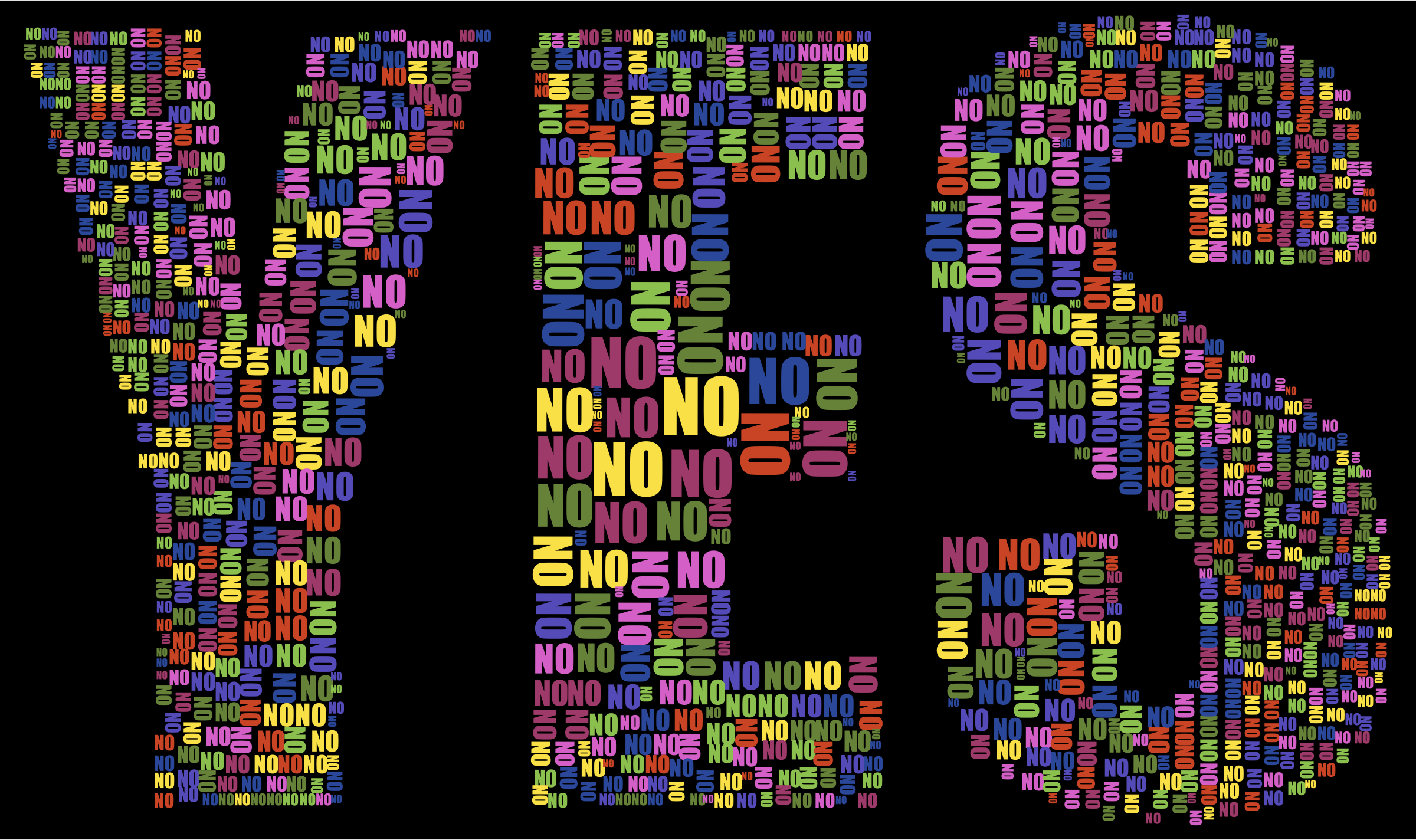 How should we view serving in the church?  (For that matter, how should we view serving at work, serving at home, serving our neighbors?).
Each of us should ask: am I serving like God wants me to?  Are you saying "Yes" enough?  Are you saying "No" enough?  How should we respond to all the opportunities there are for serving?
In my weekly Saturday morning email to Faith Church I mentioned the 80/20 principle that says 80% of the ministry of the church is done by 20% of the people.  That's a pretty cynical view, and it comes from people who are in churches where that ratio might be true.  I am here to say that Faith Church is NOT following the 80/20 rule.  I guess that makes us rule-breakers!  I went down through the list of all 130 or so people in our church family, and I think we are much closer to something like a 90/90 rule.  90% of the people are doing 90% of the work.  That's is so awesome.  I love how you serve, Faith Church!
But does that mean that mean we are in the clear and don't need to think about serving?  Let's take some time to look at what Jesus had to say about the discipline of serving.
Take a look at John 13:1-17.  In this famous and astounding story, Jesus demonstrates for us how to view our connection to the church.  Just hours before his arrest, trial, beating and crucifixion, Jesus has a final meal with his followers.  John was there, recording the event for us, depicting Jesus going one by one to each of his disciples, washing their feet.  At Faith Church we re-enact this many years on Maundy Thursday.  It is very, very humbling to hold someone's crusty feet in your hands and wash them.  We don't believe that Jesus wanted us to practice ritual footwashing.  That's not why he washed his disciples' feet.  While it is not wrong to reenact the ritual if done with the right motivation, Jesus had something else in mind.
That night, Jesus had every right to ask his disciples to serve him.  He is the Messiah, the King, and God in the flesh, for goodness sake.  He was their leader, their teacher, Rabbi.  They were his disciples.  They should have been washing his feet.
Instead he showed them, and he showed us, that those of us who are his disciples will have a totally different view of the world.  In a world of consumers, we are called to be servants.  In a world where the norm is to be entertained or to be pleased, we are called to be selfless.  We should see our connection to a church family, therefore, as selfless servants.
Right away, if you're like me, you start thinking, "Man, being a servant sounds horrible."  Giving of yourself?  Selflessness?  They all sound boring, hard, and stupid.  Who would do that?
It is a good question.  Jesus' call to discipleship is not a call to be consumers.  It is a call to be servants, and that is not easy.  So we have to ask, Is Jesus right?
Many societal observers say that we live in a consumer society.  This week I posted an article on the Faith Church Facebook page about how generally-speaking people view their connection to church in terms of what how a church family can benefit them. People do this because they have been discipled, taught by society to be consumers, taught that life is about what they can get out of it.
We are so used to living in a society that is in large part designed to please us, with loads of choices about clothing, food, and entertainment.  We look at vacation and the movies and TV shows, and many other various forms of comfort, as the epitome of life.  We look at ease and luxury as what we are to attain to.
Consumers, therefore, feel that the way to evaluate church worship services and their participation in a church family is this: how do those church activities make them feel, or benefit them?  If a church worship service doesn't excite them, they are prone to start feeling down about the church, and move on to go to another church to see if it can do a better job at worship.  If a church family isn't reaching out to them, they feel the church must be cold and uncaring.  For a consumer, church is not about serving, it is about receiving.
So how about you?  Do you have a consumer mentality about church?
Jesus comes along and says "What you are to attain to, what you are to make your life's work, is to be a servant."  And what we find, surprisingly, is that selflessness and serving can be done with joy, leading to a life of deeper satisfaction than we ever thought possible.
In Donald Whitney's book, Spiritual Disciplines for the Christian Life, he asks the question "Can you serve your boss and others at work?  Can you be happy when they are promoted and you are overlooked?Can you pray for the ministry of others to prosper, even if it would cast a shadow on yours?"
I think about Whitney's quote in relationship to The Door Christian Fellowship.
On February 12, 2017, we started renting space to The Door.  They rent five rooms 24/7, and we share many other spaces in the building, including the sanctuary on Sunday mornings.  Faith Church worships at 9am, then we have a combined meet and greet with both churches from 10:15-45am.  Faith Church then heads to classes, and The Door starts their worship at 11am.  Our youth groups have started working together.  Our Leadership Teams have had two prayer times together, including one meal.  We even did a congregational meal together last fall before The Door started renting.  We are so thankful for the partnership with have with The Door.
Before The Door moved in and started worshiping here in February, many of us put in a lot of work to make room for them.  There was a lot of serving and giving and selflessness going on, and I continue to be extremely proud of how Faith Church has been flexible and opened its arms to another congregation. We had to give up space, move classrooms, and even start our worship service one half hour earlier.
In the months leading up to that first Sunday with The Door, I had lots of conversations with people outside of Faith Church about this arrangement.  The feedback I got (and still get) is that what we were/are attempting is fairly monumental, even unheard of.  People were quite curious about it.  I talked about it a lot with family and friends, and one person, whose opinion I really respect, questioned the idea of one church renting to another church, when those churches are very similar.  Rent to a church with a different ethnicity?  No problem.  Faith Church had rented to Hispanic and Ethiopian congregations in the past, but those churches worshiped on Saturdays, and in different languages, so not too much mixing happened.
The Door, however, is nearly identical to Faith Church and worships on Sunday.  Renting to a church so similar to your own?  My trusted friend questioned it.
At the heart of the concern was: What if renting to The Door helps them so much that they grow faster than Faith Church does?  What if people from Faith Church decide they like The Door better?  What if renting to The Door has serious negative consequences for Faith Church?
I appreciated their concern very much.  Actually it kinda scared me.  I really respect this person's opinion.  What if renting to The Door was a colossal mistake? Here's the thing though: our Leadership Team had prayed and discussed and prayed some more and discussed some more, and we firmly believed that this was the right thing to do in the Lord's eyes, for the mission of his Kingdom.
In a way, we wanted our entire church family to serve another entire church family.  And though our time of renting to The Door is still very much in the early stages, only six months, I am growing more and more convinced that it was the right decision.  We truly see it as a mutually beneficial partnership!
Just like all the other disciplines we have been studying, then, serving is a decision, a choice we must make.
It is true that serving is listed as one of the spiritual gifts.  Some say that once you find your spiritual gift, using that gift is a joy, flowing naturally through you with ease.  But that is not always true.  Serving can sometimes be hard.  Serving means giving of yourself and that is not always easy.  Sometimes we just need to serve where needed, because it is needed.  And we might not like to serve in that particular way.
Whitney says that we should serve because God calls us all to serve.  Serve motivated by love for God and his church.  And remember that Jesus showed us and taught us that service is done by a servant.  Normally we think of servants as lower than us.  But identifying ourselves as servants is a must.  Servanthood is a critical element of what it means to be a disciple.
Disciples need to cultivate a lifestyle of serving. It is a choice we make, to take on the identity of a servant, and to practice being a servant.  How can you practice serving as a discipline? How can you have a servant's heart in every situation? It might mean that you serve, even when your heart is not in it.  It might just be serving because it is a job that needs to be done and no one else is signing up to do it.
But does that mean you need to say "Yes" to every opportunity that comes your way?  I will admit that it is tough to know when to say "No" and not feel bad about it.  It is hard to know when to say "Yes" and sacrificially serve. I was recently asked to consider being the president of our local Ministerium.  I really, really believe in our Ministerium.  I think it is amazing how churches of all shapes and sizes, from a variety of denominations, can work together here in Conestoga Valley.  I was the secretary of the Ministerium for a few years, have taken a year off, and thought I would consider being president.  I wanted to say "Yes".  I would love to play a more hands-on role in keeping the Ministerium moving forward.  As I talked it over with Michelle, with the PRC, and prayed about it, I sensed I needed to say "No."  I can't say for sure that I made the right decision. Often when we say "No" there is a lingering sense of guilt. We don't want to disappoint people.  We also think we might have been able to help.
Being a faithful servant doesn't mean that you have to say "Yes" to every opportunity that comes your way. We do need to learn when it is wise and right to say "No", and when people say "No" to an opportunity to serve, we should allow them to say "No".  We should receive their "No" graciously, without pushing and pushing them to reconsider.
As you can see though, it is a tricky balance.  We should also be people who are willing to say "Yes," people who are willing to sacrificially serve just like Jesus did.
I find it difficult to know when to say "Yes" and when to say "No."  You have to know yourself and your family, and seek wisdom.  Spend time in prayer, asking God for wisdom.
There are certainly times when it is wise to say "No."  When your kids are young, for example. When you are newlywed.  When you are going through serious stress or difficulty.
There are also good times to say "Yes."  If you are not serving very much or not at all, perhaps.  If you are noticing that you have a lot of free time to watch TV, be online, or pursue lots of hobbies and vacations.  Maybe you are not serving enough.  Jesus' example and teaching indicates that we would do well to err on the side of saying "Yes".  But remember that Jesus also knew when to say "No."  Many times in the Gospels we read how he left the crowds, got away to a quiet spot for refreshment with his Father.  Jesus didn't eradicate every disease in the land.  He could have.  Instead he drew a line.  So err on the side of saying "Yes," but avoid overcommitment and burnout.  Evaluate your heart.  Why are you saying "Yes"? If you are saying "Yes" for the wrong reason, maybe to get attention, to look good, for example, you should say "No."
Finally, get a trainer.  Who do you know that is an excellent servant?  As them to help you practice the discipline of serving.  Ask them to help guide you when to say "Yes" and when to say "No."